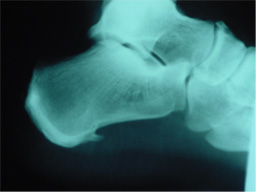 What is it?
A heel spur is a boney outgrowth at the bottom of the heel associated with constant pull of the plantar fascia on the heel. In cases where the plantar fascia is constantly stretched and strained, the bone responds to this pull by growing and a spur is formed.
Some large spurs are asymptomatic and one can have no spur but a great deal of pain. A spur is a measure of how long the plantar fascia has been under strain.
Signs and Symptoms
Same as plantar fasciitis
Pain on initial steps on waking up in the morning. Pain eases up after a few steps
Pain after resting
Deep, achy pain in the heel
Treatment
Treatment will take place when painful and when virus is starting to spread to other areas of the foot.
Same as plantar fasciitis
Rest, ice, anti-inflammatory medication, stretching
Simple insoles/ orthotics to rest the plantar fascia and float calcaneal spur (take pressure off spur)
Surgery if conservative therapy doesn't work.